Art in
PHYSIQUE PHOTOGRAPHY
Volume One.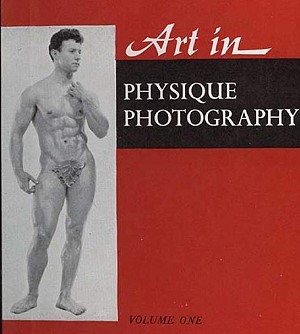 An Album of the world's finest photographs of the male physique.
Designed and produced by :
LON of New York in LONDON Physique Photography Studios, London, England.
Edited by : Domenique.
Artist: David Angelo.
Man's World Publishing Company LTD.,
The Manor House, Worcester Park, Surrey, England
Introduction.
Art is many things — painting, sculpture, dancing, drama, writing, and more recently photography. At first a novelty of science, the camera has become in the hands of the skilled a means of spiritual expression — the noblest task of any artist. This expression is a reflection of his age, and today this means an age when terror stares us in the face, when the awful power of man's science has gone beyond his moral and intellectual development—an age when the world's young men have been called upon over and over again to lace bloody death — an age when men must find new confidence and a purer pride.
For the artist, whether he uses words, or brushes, or camera, the task is to capture some of the richness and beauty of man himself — to return briefly to the ideals of civilisation's "golden ages" — when man was himself the inspiration both in mind and in body for the existence of life. We hope in this volume lies the proof dial this task is being accomplished by some artists throughout the world.
Images from Art in Physique Photography